There are already several very good sites on the Corrado, so I won't go into its history or the various models. I will simply concentrate on the Corrado VR6 since that is the car I owned.
Even though it ceased production in late 1995 / early 1996, the Corrado VR6 is still seen by many as one of the great front-wheel drive performance cars. Certainly one of the best of its generation.
It wasn't until almost 8 years later that the competition caught up to some extent with cars such as the Ford Focus RS, Honda Civic Type-R and the Audi TT V6. Even Volkswagen themselves didn't better the car until many years later.
Owning a Corrado VR6 was quite a special experience. It was the model of understatement, but could embarrass and humble almost any contemporary hot hatch that dared to take it on at the traffic lights. Round town it was docile and easy to live with, the ride was comfortable and compliant, and it was practical too, being a hatchback with fold-down rear seats.
However, getting the Corrado VR6 out onto the open road (or even better, a race circuit or airfield) transformed it into a hard-charging performance car. The chassis was very well balanced and forgiving, the brakes were adequate and fade-free, and the low-down torque of the 2.9 litre 6-cylinder engine hauled you out of bends and catapulted you down the next straight. The suspension, which round town was comfortable and compliant, became firm and well-balanced, absorbing bumps and irregularities without any of the body roll, wallowing, and sloppiness of the equivalent Mk3 Golf GTi – the Corrado was a very well sorted car indeed. This could be further improved with a variety of after-market suspension and brake options.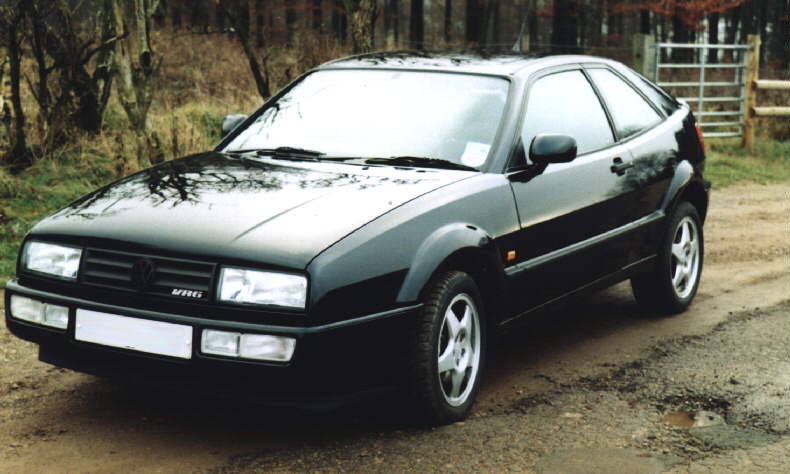 Yet for all this performance (0-60 in 6.4s and a standing quarter of 15.1s @ 93mph) one could cruise at 70mph on the motorway with 4 adults (including driver) and their luggage, and still return an mpg in the low 30's. With just the driver, a light right foot, and a long motorway journey, and you could even expect to be in the high 30's.
The Corrado was based on the Mk2 Golf floor-pan with some parts donated from the Passat. However, some of the parts and much of the bodywork were made by Karmann. Those parts that were common to the Golf and/or Passat were cheap to buy, but the Karmann parts were very expensive (eg. £500 for an unpainted rear bumper) and it was this factor that made the Corrado expensive to produce, and is what ultimately killed it as VW didn't make sufficient profit on each car sold. The fact that a VR6 engine was also offered on the Golf, albeit with a small reduction in capacity and horsepower, for a significantly cheaper price, probably did not help matters either.
The VR6 engine for the Corrado was originally designed to benefit from a dual tract variable-length inlet manifold called the VSR (German: "Variables SaugRohr") and made by Pieronberg for VW Motorsport. This gave extra low-down torque but was deleted before production on cost grounds and was instead offered as an after-market option. The design was later sold to Schrick who redesigned it and offered it as the Schrick VGI ("Variable Geometry Intake") which is what I had fitted to my car.
(And in case you're thinking that this paragraph is lifted straight from Wikipedia, you'd be wrong. I wrote it and then added it to Wikipedia.)
My particular Corrado was first registered in March 1996 and I bought it in October 1996 with 7,662 miles on the clock. I sold it in February 2011 with 149,621 miles.
It had the optional full black leather interior with heated leather seats, and it also had a deep blue pearlescent paint, so was similar in specification to the Storm model but without factory-fitted CD player or the 6-spoke solitude wheels. The former was addressed with a modern Sony CD / MP3 player and the latter is less of a relevance as many owners changed to 16″ or even 17″ wheels as tyre options become more limited at the stock 15″ size.
My car was extremely reliable and rarely missed a beat. It was only in the final year or two that anything really went wrong. Even then, repairs were easy and relatively inexpensive.
The Corrado spent many, many years as one of those "Future Classics" that never seemed to realise that promise and start to go back up in price. When I sold mine they were probably at their lowest point, and I possibly could have got more for it if I had scrapped it for parts, but I had had my fun from it after 14 years and it was sick in the engine and needed to be moved on. Since then prices have FINALLY started going back up and good examples are now finally worth the decent money that was falsely promised for years.